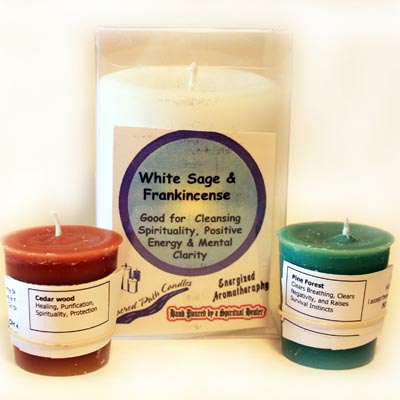 All of Seeds of Wellness' aromatherapy products come from American owned companies:
Candles – pillar and votive sizes
Hand poured by Sacred Path Candles
No chemical scent holder
Aroma throughout the candle
Essential Oils and Diffusers
Pure therapeutic essential oils – single and blends
Variety of diffusers with and without heat
Carrier oil
Products mad with essential oils – lotion, muscle rub, toothpaste, etc.
Satya Sai Baba Nag Champa stick incense
Wild Berry cones, sticks, and fragrance oils
Pinch Me Therapy Dough – two sizes available to help reduce stress
What is aromatherapy? Merrim-Webster's definition: massage of the body and especially of the face with a preparation of fragrant essential oils extracted from herbs, flowers, and fruits; broadly : the use of aroma to enhance a feeling of well-being.
The scientific concept of aromatherapy, the use of essential oils to treat or prevent disease, has been around since the early 1900s. However, the use of plant oils for therapeutic purposes goes back over 6,000 years. How aromatherapy may work is not entirely clear.
It is believe that inhaling the aroma of an essential oil stimulates brain functions, emotions and memories. By applying the diluted essential oil to the skin, it is absorbed into the blood stream to promote whole-body healing. For example, inhaling eucalyptus oils is believed to help ease congestion.
While health benefit claims made by aroma therapist have been unproven, clinical studies have shown that aromatherapy combined with other treatments has show positive effects. Aromatherapy helps the body cure itself through natural ways, but it does not cure conditions. Most of the benefits seem to be related to improving the mood, relaxation and pain relief when it is used correctly.
Note: The US does not regulate the use of the word aromatherapy on product packaging, labels, or advertising. Therefore, anyone can market a product as suitable for aromatherapy. If a product says it is "Made with Essential Oils" or "Made with Natural Ingredients", it means the product contains a minute quantity of essential oils and the rest of the product may be synthetic.